vö froua und mä / of women and men / oil on canvas / 2019 / 150×120 cm
froua und mä. frauen und männer. dualität.  sonne und mond. trennung und verschmelzung. unterdrückung und gleichheit. gefangen und frei.
women and men. duality. sun and moon. division and fusion. suppression and equality. captured and free.
Was muansch eigentli, Frou? / What are you thinking, Woman? / oil on canvas / 2018 / 145×150 cm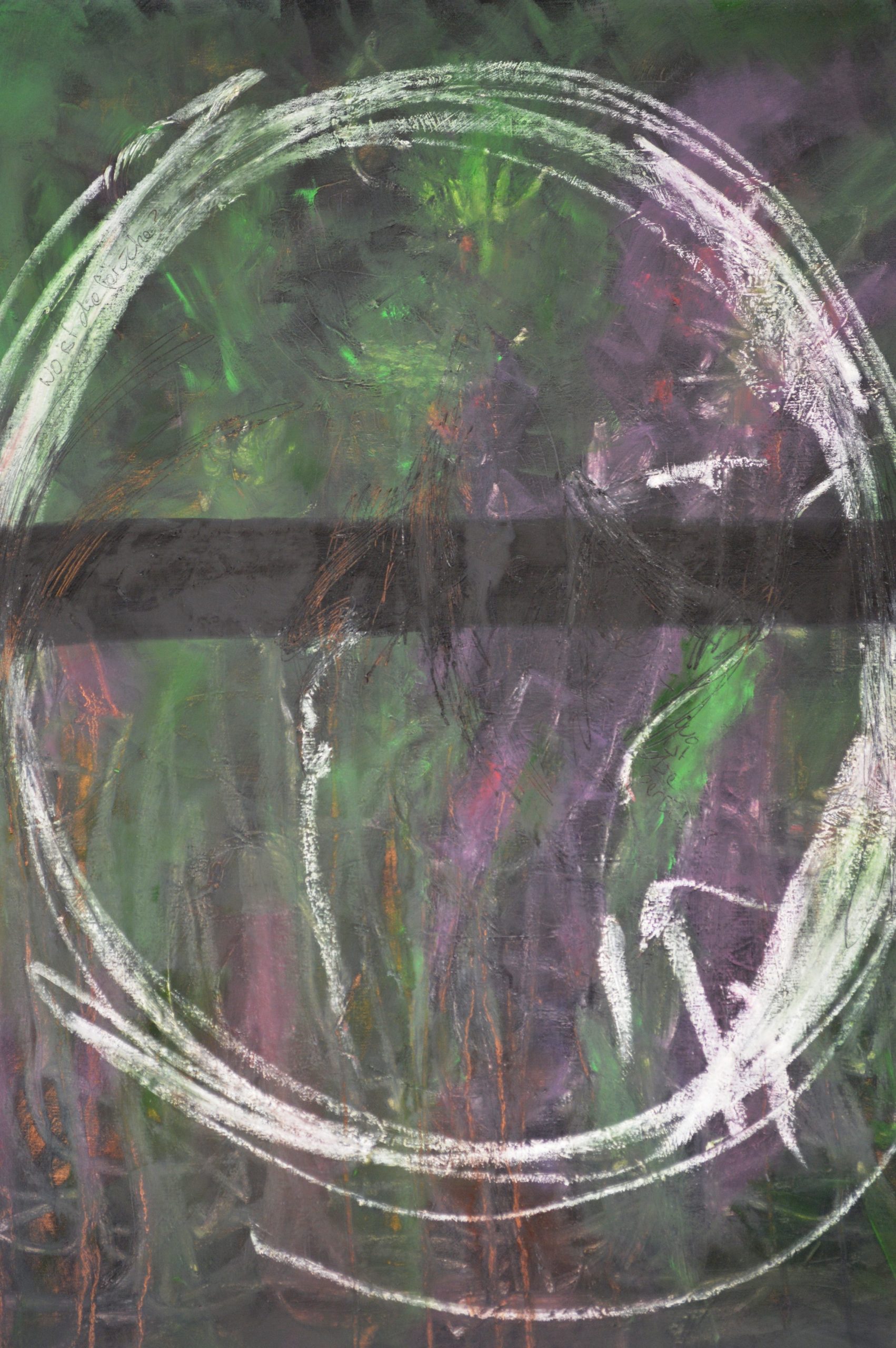 Frou / woman / oil on canvas / 2018 / 70×95 cm
Vrschschnürt / Tide up schschsch / Mixed Media – Acryl, Shoes, String on Canvas / 2016 / 80×80 cm
Schscht. Tztz. Sit down. listen. don't move. (Poetic Sound Collage / 2016 / in dialect from austrian town Lustenau)
Alter Scheiß Mann / Old Shit Man / oil on canvas / 2018 / 90×145 cm
Words on the painting:
For you / I am a lone wolf / nobody needs to get too close to me / Es tut mir leid für dich, dein Leben, deine Entscheidungen / Old man sorry for the old scheiß / I take you in my suitcase / never felt so pretty before / the old man / Wer auf sein Elend tritt, steht höher / The Pitt(y) man / Lupf din päkli sealb / alles gut alter Mann / ohohohohohoh / Ein Berg von alter Scheiße zum drauf steigen und runter schauen / wer auf sein Elend tritt, steht höher / he went to bed and bumped his head and couldn't get up in the morning / Wo hat es angefangen so scheiße zu werden? / It's raining it's powing, the old man is snoring / zu viel gesehen, zu viel gehört / genug / Dein Rücken bricht unter den 100 Lebensjahren / Das Neue wächst auf dem alten Mist / Der Koffer ist viel zu schwer für mich / Bart rasieren Haare schneiden, auch die in den Ohren und in der Nase / Old man's problems / not really
Je / oil on canvas / 2016 / 180×120 cm
je / ever – poetic sound collage. 2016.
ever. if anyone ever heard what I'm saying? I'm falling. without listening I'm drivting forward. Is a sound hard? Will it kill me or bring me to life? I'm falling. ever. If anyone ever heard what I'm saying?
Du luagasch nôch Bluat us / You look like blood / oil on canvas / 2018 / 150×80 cm
klein halten. brav sein. still sein. nicht gehört werden. besessen werden. nichts haben. aufopferung. BEFREIUNG. laut sein. sich gehör verschaffen. hexe sein. bluten. furzen. niesen. so laut es geht. auf dem weg zu ausgleich.
keeping small. behaving well. being quiet. unheard. posessed. having nothing. sacrifice. LIBERATION. being loud. make yourself heard. be a witch. bleed. fart. sneeze. as loud as you can. on the way to balance.
Hatschi / acryl, shoes, wire on wood / 2018 / 48×85 cm